What We Do
We help you to plan and deliver brands for legal tech that get noticed to the audiences that matter, by:
DEFINING YOUR BRAND STRATEGY AND NARRATIVE
(Research. Definition. Architecture. Messaging)
CREATING YOUR BRAND IDENTITY
(Naming. Corporate ID)
PRODUCING GUIDELINES TO ENSURE CONSISTENCY
(Brand tools. Templates)
BUILDING BRAND AWARENESS INTERNALLY & EXTERNALLY
(Design, copy, production of online and offline applications)
Who We Help
Soukias Jones is a small group of experts specialising in branding and design for professional services. It is an area we know well and where we can genuinely help firms brand their New Law credentials.
Baker McKenzie, Goodman Derrick, Haines Watts, Hogan Lovells, KPMG, King & Spalding, Kirkland Ellis, Norton Rose Fullbright, Mishcon de Reya, White & Case
How We Do It
Using the following scenarios, here's how we help law firms to address a range of challenges:
#1: Help clients and partners understand the scope of your offering
Over time, you've developed and expanded your products and capabilities, or changed their scope. But your brand is still the same. Are you maximising your value by making sure your clients understand the full picture of what you offer? Are your partners well versed in the breadth and depth of your solutions?
SOLUTION: Going through a rebranding process, and developing a separate sub brand or standalone brand, can be the best way to ensure your product portfolio and capabilities are packaged in a way that makes them accessible and distinct.
#2: Launch a new product
Your practice area or sector group has developed a new online tool to guide clients through new regulations or provide greater efficiencies. Now they want to bring it to market and other groups in the firm also have plans to create their own products. Yet the firm has no structure or framework for naming and visualising products, or for communicating them to clients and partners.
SOLUTION: Brand architecture provides a blueprint to group, name and visualise products, and launch them.
#3: Reorganise, restructure and add clarity
You have an ad hoc collection of products and solutions, comprising different names and identities created at different times by practice and sector groups. Apart from a corporate brand, nothing holds these together.
SOLUTION: The creation of a master narrative, which outlines your corporate purpose along with individual stories, can provide a wrapper for your collection of solutions. This is part of developing a more structured approach to brand identity, helping to regroup products and solutions.
#4: Tell your story better
There's no shortage of New Law capabilities and solutions, and you may have a marketing programme in place to tell your story. The problem is, it's neither compelling nor widely understood.
SOLUTION: The way a narrative is told may need refreshing if it's to capture the attention of audiences both internal and external. This can involve digging deep to unearth new insights, then using rich content, new media and creativity to bring your narrative and messages to life. Toolkits, hubs, film and thought leadership can form the cornerstone of any new content strategy.
#5: Refresh your image
Maybe you're trying to shed legacy perceptions, or your look is outdated in the fast moving tech market. You might need to sharpen your look across all customer touch points, from website to literature, presentations to social media.
SOLUTION: To move from who you are now to who you want to be will mean ensuring your brand is rooted in strategy, insight and inspiring expression, and delivered consistently across all applications.
#6: Develop hearts and minds
You're already on the tech journey. Your objectives and plans have led to digital transformation projects, you already have innovative solutions, fed by your knowhow and expertise. It's now time to have the right conversations with clients. Making sure they are know who to call, developing hearts and minds is key.
SOLUTION: Creating internal narrative for your story is a good starting point to bringing everything and everyone together. Providing and delivering evidence based content – crib sheers, case-studies, presentations, forums, and more will provide the tools and confidence to ensure your people are having the right conversations with clients.
What we Think
We've produced a bank of content to help firms navigate branding challenges when it comes to packaging their tech solutions.
Our latest publication is Joining the Journey: How firms branding their tech and innovation have progressed in 2020.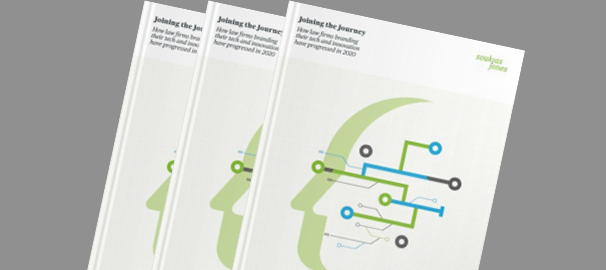 Related insights include:
How 'the other half' brands tech
What can accountancy and law teach each other about branding tech and innovation?
5 ways to get into a creative mindset
The pandemic demonstrates the importance of a creative mindset. How can firms stimulate and harness this?
Using innovation to attract graduates
Graduates are embracing tech to upskill and enhance their legal careers. No law firm can ignore this – but how can your firm attract them?
Want To Receive Our Newsletter?
We produce the quarterly newsletter BrandTech, which offers latest news and views on what is happening in the world of legal tech branding. To add your name to our list and receive the next edition of BrandTech, click here.
Join our mailing list, be the first to read our content. We won't inundate your inbox, instead we will send you a note every month or two.
Book a Strategy Call
Perhaps your existing strategy is underperforming and failing to deliver results. Do you need help branding your tech?
We're here to share best practice in branding and content marketing and we can help you to navigate and overcome any challenges you face, and learn how to get more out of your branding and tech.
Set up a no-obligation call with our branding expert, Grahame Jones.
Contact us
For further information on any aspects of our expertise and services, contact: